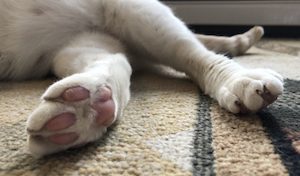 In-Home Fee $25
Nail Trim $12
Total $37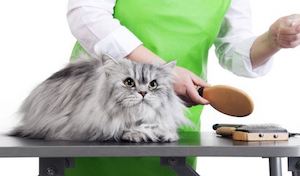 In-Home Fee $25
Nail Trim $12
Ear Cleaning $5
Brushing/Clipping Less than 15 Minutes $10.00
Total $52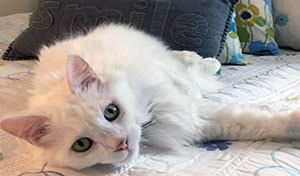 In-Home Fee $25
Nail Trim $12
Ear Cleaning $5
Brushing/Clipping Less than 15 Minutes $10.00
Shampoo and Conditioner $20
Total $72
Details and Service Rates
The In-home fee is $25 and you can add on any of the services below. 
GROOMING RATES 
Nail trims $ 12 
Ear Cleaning $5
Ear Cleaning $5
Cleaning, drying and medicating Chin with Feline Acne using your vets cleaning solution or medication wipes $7
Brushing or clipping $10 /per 15 minute session
Shampoo and Conditioner $20.00
Current Clients Can Schedule Through the portal or text me to set up a good time for a grooming
New Clients Please text me at 781-447-5489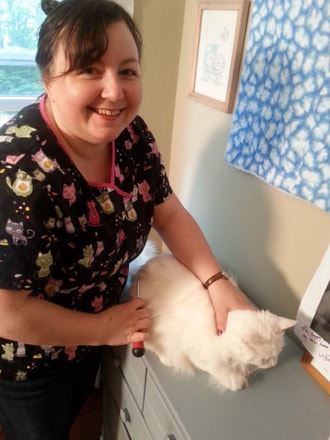 I learned pet grooming when I was in school at Becker College for Animal Care and Management. I quickly preferred grooming cats. I opened a cat boarding and grooming business in Whitman from 1997-2004 and thats when I did a lot of cat grooming. Having a grooming room, with good lighting and a quiet space for cats to relax makes most of the difference in grooming cats. I also offer cat nail trims, brushings, ear cleanings. I don't do Lion Cuts in people's homes. I only trim small matts and do brushing and de-shedding, nail trims, ear cleanings and sometimes a shampoo. Shampoos are usually for senior cats that can't clean themselves easily or for accidents. 
I am now offering a few mid week and occasional weekend cat grooming services in and around Kingston MA The In-home fee is $25 and you can add on any of the services below.